Introduction
The lure of the forbidden: when something is not allowed, it becomes all the more interesting. This goes for age-conditional and illegal substances, but for marketing as well. Agencies design campaigns based on the briefing of their client. They often want to suprise the client with something original, daring - something that will create reactions, or even commotion. So, the proposed result can be an ad or commercial that the client did not have in mind, and in fact goes against their corporate branding, crosses the lines of ethics (on purpose) or even pushes against industry standards or legal restrictions. The question then is: keep it or dump it?
Especially in LGBT marketing, where the audience consists of a minoroty based on sexual identity or preference, caution is needed when addressing the potential customers. Jokes are often used in advertising, double entendres are sought after. However, where Jewish jokes can only be made by Jews, and black jokes only by black people, it stands to reason that gay jokes should only be made by LGBT. A company - be it an advertising agency or a corporation - is not that, so the receiver does not identify jokes with the sender. So: beware.
And then there is legislation, that may specifically forbid the use of "gay images", or targeting of the LGBT demographic, for instance in Russia, where IKEA withdrew a lesbian segment from their catalogue.
Kissing Guinness guys
Probably the most hyped 'lifestyle' ad - PR men don't like to call them 'gay' ads - was the one meant to promote Guinness in 1995. It was so 'hot', ... it never happened. Or so the story goes. When David Smith, editor of Gay Times, planned to use stills from the footage, Guinness Brewing GB threatened to sue him. "They quoted the laws of copyright to us over the phone and by fax and said they'd take action if we didn't promise not to use any of the material we'd been offered." In 2012 the commercial was cited by Business Insider as one of "15 Ads That Changed The Way We Think About Gays And Lesbians." It was only uploaded on YouTube in 2010, 15 years after its creation.
The ad, produced by agency, Ogilvy and Mather, featured - eek! - two guys kissing. The ad never saw the light of day due to a "massive negative backlash". AdRespect reported: "Artfully shot with the help of maverick California-based British producer Tony Kaye, the UK tabloid press widely reported the planned ad before it aired, to much scandal. Pubs and consumers were shocked that the traditional brand would air a gay ad."
The customary denial followed: there really was no ad, just a bit of footage, which they might have used, with the slogan: "Not everything in black and white makes sense." David Smith: "Certainly, the story presented by the film footage we saw, doesn't constitute what any self-respecting gay man would consider a 'gay' ad. On the contrary, the content is full of heterosexual concerns. Edwardian suburbia, male slobbery, the little rubber-gloved 'wife' clearing up the macho husband's mess as he's busy creating more on his helter-skelter progress into his car on the way to work. The fact that that the little 'wife' turns out to be a man who gets a peck on the cheek as a reward for his efforts does very little to de-heterosexualise such a clichéd scenario."
Guinness did show its gay-friendly side years later, when it pulled out as a sponsor of New York City's St. Patrick's Day parade in 2014, because gay and lesbian groups had been excluded. "Guinness has a strong history of supporting diversity and being an advocate for equality for all," the brewer said in a written statement.
Johnnie Walker's "good taste"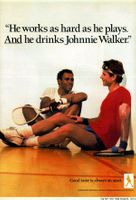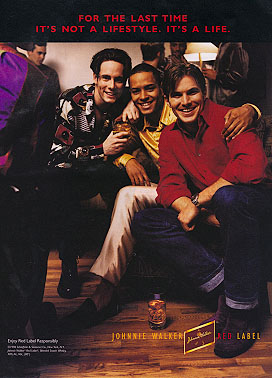 Offending people is also a marketing tool - for instance by making jokes about them, or talking about them in a stereotypical, derogatory way - although opinions can differ about the ethics of it. As early as 1991, Johnnie Walker featured a gay couple in their ads. In their campaign "Good Taste Is Always An Asset", a number of daring images (for the era) were used. First they showed the close-up of two attractive women running on a beach in bathing suits. The caption was "He loves my mind. And he drinks Johnnie Walker." When women complained that the visuals subverted the text, the agency ran a male hunk version with less-revealing rear view. But to make sure everyone was offended by Johnnie Walker's good taste, the agency prepared yet another version, that showed two men talking on a racquetball court. The caption was "He works as hard as he plays. And he drinks Johnnie Walker." An industry magazine wrote: "Now gays could be offended too." I am not really sure if and how this was perceived to be offensive, but there you have it.
Note: 15 years later they had chosen sides, by 'promoting' a lesbian wedding ("Every revolution starts with a splash of red") and by showing three gay buddies ("For the last time, it is not a lifestyle, it's a life"). Strangely enough, this ad was run in New Zealand, where same-sex marriage did not become possible until 2013, seven years later.
Of course, drinking beer - and whisk(e)y - has always been a 'male thing', so many ads have featured best mates enjoying a good time together, some being dubbed having "latent homosexual themes". Especially Kinsey was inclined to be 'latent'. Bit all these vintage ads were from days (1940s) that nobody even thought twice about the reason two men were being friendly together.
Svedka & the Lesbian Fembot
Apparently gays drink a lot of vodka, because next to champion Absolut, brands like Skyy, Smirnoff, Stolichnaya and Svedka (4x S: coincidence?) have specifically targeted this market. Svedka (who knew Sweden had so many vodkas) had the most daring approach, using a futuristic lesbian fembot as their icon. They had grown explosively thanks largely to provocative advertising that ignored accepted industry standards.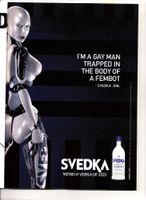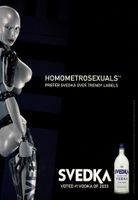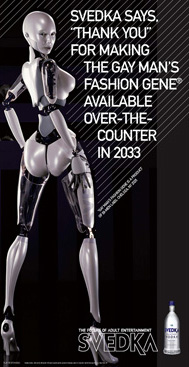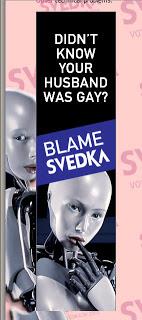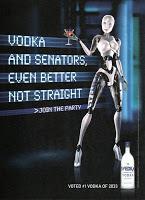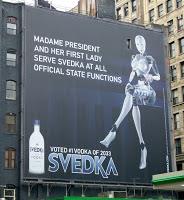 In 2006 they billboarded with "Madame President and her First Lady serve Svedka at all official state functions. Another line used was "Svedka says 'thank you' for making the gay man's gene available over-the-counter in 2033" - this billboard was, not coincidentally, set up in the meatpacking (gay) district in NY. However, they ran a campaign in 2007 with an offending print ad - starring the curvaceous mascot - featured the tagline: "Gay men still prefer Svedka over sex with women" (and a corresponding female version). The review board found the tagline in violation of its "good taste" provision, and Svedka obliged by pulling the ad (whereas they normally simply ignored the industry's marketing arm when it asked for ads to be shelved). A banner on their website used the tagline "Blame Svedka" to ask "Didn't know your husband was gay"? These lines are bordering on insulting, in any case are not doing the gay cause much good.
Another offending ad ran on the celebrity-gossip website of gay blogger Perez Hilton, asking consumers: "Did your private sex tape just go public? Blame Svedka." After a complaint, the review board was unable to reach a decision on whether the ad was in violation of its code. It forwarded the complaint to a group of outside advisers who thought the association of the product with sex was in violation of the "good taste" provision.
Jim Beam's tragedy
In 2008 bourbon brand Jim Beam ran a rather disconcerting commercial in a campaign that was described as "deliberately designed to be wildly offensive from a feminist point of view." The lesbian commercial in this series of three came down to calling the attraction between the two women "a tragedy" - the comments on the YouTube site were mostly from men who claimed they could "make them both at least bi" or who would want to watch them. Rude, offensive and completely unnecessary.
Ambassador Royal - from another era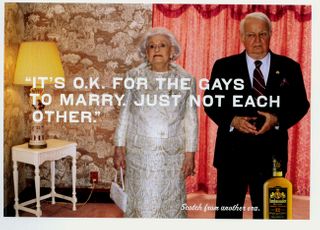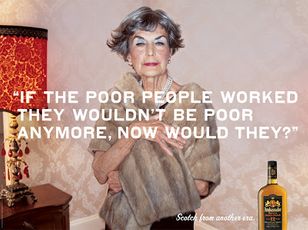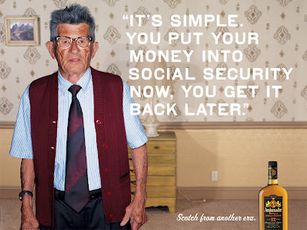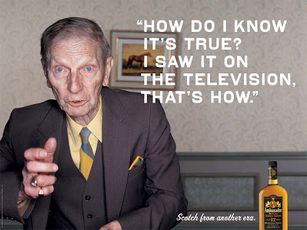 Finally, some more offensive alcoholic ads from 2005. When you first see the gay one ("It's OK for the gays to marry, just not to each other"), you may think: WTF?? However, the ad is one in a series of 4, where the others are equally brow-raising. They come from a booze that isn't cool and revels in the fact. Agency Leo Burnett explained, the "Scotch From Another Era" campaign "is intended to introduce the Ambassador brand to 24-35-year-olds who don't have much Scotch experience. Ambassador Scotch has been around forever. It's not the least bit cool or sexy and isn't served at the bar at, say, a South Beach hipster spot like the Delano Hotel". The visuals are supposed to reverse the non-coolness to hip status.
Heinz presents the Italian chef
When Heinz' new advertising agency in the UK, AMV BBDO, created a commercial in 2008 showing two men kissing the Advertising Standards Authority received over 200 complaints (added by American Fox News host Bill O'Reilly who complained about the advertisement during his show, stating: "I just want mayonnaise. I don't want guys kissing") , quite likely making it one of the most complained-about ads of the year. A complaint often heard was that this was not suitable for children - a moot point as the ad falls foul of Ofcom's TV ad restrictions relating to products that are high in fat, salt and sugar and can therefore not be seen in and around children's programming.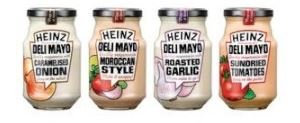 In the ad, we see two young children go to the kitchen to get their sandwiches, which are being prepared by a man with a New York accent, dressed as a deli chef - they refer to him as "mum". Then their father rushes in to get his sandwich, and he says to mum: "See you tonight love." However, mum barks back "Hey, ain't you forgetting something?", after which the two men share a kiss. Mum then sends the father off to work with the words: "Love you. Straight home from work, sweet cheeks." The concept behind the campaign is that the product tastes so good, "It's as if you have your own New York deli man in your kitchen."
While same sex marriage was vastly becoming more acceptable in the UK at the time, observers wondered if this was not chasing away the pink pound - while other complimented Heinz for creating headlines. Heinz decided to pull the ad after just a week (instead of airing it for 5 weeks, as planned), because of "consumer feedback." Spokesman Nigel Dickie said that the ad was meant to be humorous and that the company apologized if it had offended anyone. Subsequently the LGBT lobby called for a boycott, at the same time launching a Facebook action. This campaign quickly generated over 13,000 signatures.
Suspicions later rose that most of the 200 complaints came from, or were at least encouraged by, American religious organizations. One (gay) marketing agency noted: "Call me ill-informed but a mere 200 complaints in a market of 60 million consumers seems rather insignificant to me. More to the point, whenever we work with a new client, we generally advise that no matter what brands do in relation to LGBT marketing matters, there will almost always be a number of consumers who will take it upon themselves to be righteously offended, and complain to the company. That has nothing to do with matters of taste or decency, and everything to do with homophobia. One irony of all this is that the kiss is not even a real gay kiss."
One cannot help but wonder why both an American show host, and an American family organization would interfere in a strictly British campaign. Bigotry knows no borders?
Adam and Eve for Centraal Beheer
Another 'situation' occurred with Dutch insurer Centraal Beheer's (CB) "Adam and Eve" commercial. Eve walks through the Garden of Eden until she sees a handsome man - who then greets her in an effeminate way. The pay-off is CB's usual one 'Even Apeldoorn Bellen" (Just call Apeldoorn, where the insurer is based), because obviously 'something went wrong'. The commercial went viral, presented as "the one forbidden by CB". My guess is that it was made for this purpose. Why would an insurer, in a market as liberal-minded as the Netherlands, spend tons of money on a concept they later reject? There were hardly any negative effects. It garnered over 30 million views. Ka-ching!
Pepsi goes fighting
Pepsi ran into a snag in Australia with a mainstream commercial that offended some. It features a wrestler who tries to kiss a female fairy. Their lips almost touch but, as he comes out of his dream, she disappears and turns into his real male opponent, who he then violently head-butts. Complaints from Victoria's gay community resulted in an investigation by the country's Advertising Standards Bureau. A complaint said the commercial "conveys a somewhat unsubtle message that it's okay to be violent if a guy tries to kiss you if you're male. The message it is giving is none too subtle and reinforces homophobic attitudes." Darren Borg, marketing director of Pepsi Australia, defends the ad as "less gender-specific and not about that at all – it's a competition between two wrestlers." Borg notes that independent local bottlers in Australia have been supportive of the gay community as sponsors of gay events - but not corporate Pepsi, and the commercial in question continued to run.
Another negative response was received for an alleged homophobic video clip for Pepsico's Doritos in Brazil, where it was making the rounds on gay blogs. In it, four friends are riding in a car, when one of them suddenly starts 'dancing' to YMCA. A bag of Doritos covers the guy's face and a slogan says "Wanna share something with your friends? Share a bag of Doritos." While the whole thing may seem harmless, gay rights groups claimed that the commercial discriminated against gay men by suggesting that coming out to your friends is not appropriate. Gay rights group ABGLT filed a formal complaint asking for the Doritos commercial to be banned from television.
Forbidden, tainted... or just lack of interest?
Over time, there have been signs that the pink Pound or Euro is not always proving to be a great pull for advertisers. In markets like the Netherlands, this is mostly due to the fact that companies do not consider this segment separately, in other countries this was caused by a fear of retribution of being considered a 'gay brand'.
Rumour has it that when Audi launched its TT in Australia, they targeted the 'trendsetting' gay market first. The car did become Gay Car Of The Year in 2004. However, this did not go unnoticed in the mainstream market, where the macho Australian 'Bruces' shunned the brand for a period of time. Even 6 years later, pundits of a forum still wondered it the car was gay (and would reflect on them as such).
The British Henley Centre had to abandon plans in 1997 to analyse the market when it failed to muster enough client interest. In the same year, attempts to launch a gay lifestyle exhibition, Fused, collapsed through lack of big-brand support. In the process, it failed to deliver on the promise that: "Fused will demonstrate to the gay community that marketers recognise the innovative and up-market consumer lifestyle that appeals to them, providing a forum suitable for major brands to prove their commitment to them as discerning and important consumers."
In 1998, the organization of the Gay Games in Amsterdam had big problems finding sponsors. Only when KLM had agreed to be a main sponsor (quite late in the process), others followed. Apparently, the fear for negative effects were inhibiting companies to commit themselves to the LGBT community, in spite of - or maybe because of - the high exposure of the event.
Pride
In 2010 the world's largest outdoor advertiser, Clear Channel Outdoor, rejected two of the four billboards the St. Petersburg (Florida) Pride organization produced to promote their upcoming pride celebration. In response, St. Pete Pride cancelled its contract with Clear Channel, stating "the images that were not selected do not contain anything that is sexual, immoral, illegal or otherwise offensive in nature. We are almost certain that you have had billboards in the market which display men and women in both friendly and romantic ways. I can't seem to understand where these images would be any different, except for the fact that they portray two men and two women, respectively. St. Pete Pride is determined to focus its message on the family aspect of the GLBT community. Therefore, (we) would not allow Clear Channel to dictate what message we could convey."
The two rejected billboards can be seen above, and the two that were accepted can be seen below. In previous years Clear Channel edited St. Pete Pride's creative, but in 2010 the organization decided to no longer accept it.
Of course, there have also been mainstream ads that have been vetoed, withdrawn, boycotted or objected against. However, it is clear that there are two sets of norms: a situation that is acceptable in a heterosexual setting, can be 'forbidden' when two men or two women are concerned. The reason given is often "to protect the public", more in particular children. The real reason is smallmindedness, bigotry - or just the sign of the times.
Article last updated October 8, 2020