Introduction
Car rental agency Avis is member of the Avis Budget Group (previously Cendant): other brands include Payless, Apex, Maggiore and Zipcar. The company's headquarters are located in Parsippany-Troy Hills, New Jersey. Avis Budget is the leading general-use vehicle rental company in North America, Australia and New Zealand and holds a prominent position in Europe.
The beginning
Avis has been courting gay travelers for years, says spokesman Ted Deutsch. "We see the gay and lesbian market as significant in size and very brand loyal,'' he says. "And we believe in serving as many customers as possible.'' Because Avis agencies are 95 percent company-owned (unlike most competitors, who operate via franchise), their agencies have virtual uniformity in their (LGBT-friendly) policy. "Avis prides itself on treating customers better than other people treat them," Scott Deaver, executive vice president and chief marketing officer, says.
The changing face of travel motivated Avis to seek out new consumers. "After 2001, corporate travel shrunk more than leisure travel." explains Deaver. "Corporate travel was not as price sensitive, but I had to find leisure travelers who also were not as price sensitive." That turned out to be people who were "experience committed," those who preferred interesting trips over cheap getaways. Deaver found gay consumers often fit that profile.
Early start
Ten years before the USA reached a pinnacle in the same-sex marriage debate, Avis decided to recognize same-sex partner rental customers. Their 2003 ad campaign featured a gay male couple and emphasizes a point other rental agencies did not: "Domestic partners are automatically included as additional drivers. No extra fees charged. No questions asked." Deaver: "This is our biggest investment in a vertical (niche) marketing effort. We made a big bet on this one, we think this is very important." The campaign appeared in national gay magazines such as Advocate and OUT (dubbed "hard-core homosexual magazines" by the conservatives), and in program books for gay film festivals in 10 cities. Avis also was a sponsor of the GLAAD Media Awards. In the promotion there was a special link to their web site (avis.com/prouder - no longer in function) that offered a $ 1 donation to the GLAAD per rental when using a special code. This failed since few people filled out paperwork for the low donation.
Here come the protests
The Avis promotion was high profile enough so that the company garnered over 100 protest letters. Deaver, "Right wing groups are reading OUT and The Advocate and publish to their constituencies about who's advertising." He added, "It's been more than I thought it would be, and I've been shocked and disappointed by the mean-spiritedness of it." In contrast, Deaver says that the company has not received any letters from the gay community in support of the campaign. Avis replied to the complaints by saying they were not going to change their policy.
When Avis placed an ad in "Out Travel" in 2004, luckily the conservatives reacted again: I say luckily as such right-wing actions normally are very beneficial to the cause. The Concerned Women of America (CWA), presenting themselves on their website as Legislative Action Committee ("There's a cultural battle raging across this country and CWA is on the frontline protecting those values through prayer and action"), got their panties in a twist. Although the original article is no longer on their website, a quote was: "The ad features two men in an unmistakable embrace, and the ad touts Avis' extra benefits to homosexuals." The unmistakable embrace to me looked more like a friend to friend interaction, but then again, I don't flame out with a fury to conservative comrades when I find they are not being bigoted enough, while CWA does. The group opposes hate crime legislation too, because it says making attacks on gays a special crime suggests the government "approves of homosexuality". One of the dogma's of CWA is "helping their members across the country bring Biblical principles into all levels of public policy" – this in a country with separation of church and state.
A discounted lawsuit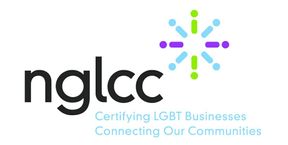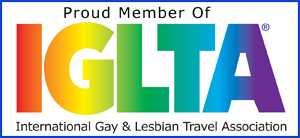 In 2010 Avis announced that they had entered into a three-year partnership with the IGLTA that provides gay travelers with discounted car rentals. "Avis leads the industry in its commitment to the gay and lesbian community," says IGLTA President & CEO John Tanzella. "We encourage all travelers to use the discount booking code to get the best rates and reciprocate Avis's show of support." The agreement was later extended to the National Gay and Lesbian Chamber of Commerce.
Interestingly, someone filed a class-action lawsuit against Avis for providing these discounts - as a violation of her civil rights. The lady claimed that the special treatment is a "violation of California's Unruh Civil Rights Act, which prohibits businesses from offering discounts to customers based on sexual orientation. These unfair and unlawful business practices result in many consumers who are not affiliated with those organizations paying substantially higher rental rates than those made available to gay and lesbian renters," the complaint states. She was seeking damages and restitution on behalf of anyone who rented a car from Avis since the company began offering the discounts. She was also seeking an injunction to stop Avis from continuing to offer reduced rates to members of the gay and lesbian organizations.
The case led to some discussion. Blogger Wingerjock wrote: "Should members of the LGBT community get discounts? Absolutely! There is one requirement for becoming a member of the IGLTA, and it has nothing to do with being gay. Rather, membership is open to travel agents and other travel industry businesses. The plaintiff happens to own a travel agency, so she could join the IGLTA. The LGBT customer base is just one of Avis' discount target demographics, which include the following groups: small business owners; military veterans; persons with disabilities; weekend rental families; one-way renters; and even people who rent cars at select airports. Or, in some cases, people who Google "Avis coupon code." Should this lady be awarded legal damages because she wasn't smart enough to shop around for one of Avis' 30+ specials? Considering the fact that she's a travel agent, she knows all about these deals, and has no excuse." Another observer said "this has to be one of the stupidest cases I've seen filed by law firm in quite a while".
Europe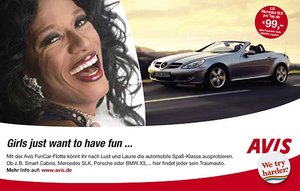 Around the same time Avis began a campaign in Britain as well. Targeted campaigns in Germany have been run as well – with drag queens no less.
By 2016, Avis had established a special website for the LGBT customers, mainly listing Pride events around the world, albeit rather out of date.
The Dutch website has no special section or offer for the gay drivers, but does mention matter-of-factly in their "Annual Festivals and Events" section (about the UK): "If you are there for Chinese New year or Diwali, you will encounter festivals and celebrations in many cities in the country. In the summer months, many big cities have their own Gay Pride festivals, of which the largest – outside the capital – are being held in Manchester and Brighton. During Christmas you can go shopping, enjoy the lights or go to German markets". <sic>
The British website says: "An annual event that always attracts plenty of visitors is the Brighton and Hove Food Festival. It runs for ten days every April and September. It's all about keeping it local, and celebrates everything food-related in the city and surrounding Sussex area. But the biggest weekend of all is probably Pride. Revellers come from all over the world to be out and proud in one of the UK's most gay-friendly cities." A similar listing for Bournemouth briefly mentions the pride event.
Conclusion
"Avis is not the cheapest of the car rental companies," Deaver says. "We're the best in terms of product and service quality. Our leisure marketing strategy is to find people willing to pay more to get more." Did they find some in the LGBT market? Putting gay-friendly consumer policies in place and creating innovative, high profile, lasting advertising sure was a great start.
In HRC's Corporate Equality Index, they score 95/100.