Introduction
He may have been Vice President (though only for one term), but before that Mike Pence was governor of the Hoosier state: Indiana, the 38th largest by area and the 16th most populous of the 50 United States.
But you don't have to be a big ruler to mess things up. Pence managed to seriously dent the reputation ánd the economy of his state, all in the name of Freedom of Religion. For which he was rewarded by Trump to become his right hand.
In my research, I have tried to stay away from politics. After all, marketing is most often an economic activity. Rules apply, but (government) politics should stay out of it. However, due to the sensitive nature of the target demographic - a minority, based on sexual preference or identity - many non-economical aspects play a major role, among them social and political ones.
Marketing does not have to be TO the LGBT community to affect them. Under the guise of freedom of speech and freedom of religion, equality was set back, acquired rights have been denied and discrimination legalized.
Indiana
A good example of how politics and economics are intertwined was given by the state of Indiana, which came under attack in March 2015, when the Republican Governor Mike Pence signed "Indiana Senate Bill 101" into law. This law was presented as the "Religious Freedom Restoration Act" (RFRA), a reinforcement of the federal law from 1993, introduced by President Clinton. The bill was passed not long after the rollercoaster ride of same-sex marriage reached Indiana: first, the state legislature failed to pass a ballot initiative in the 2014 election to ban same-sex marriage, and then the 7th Circuit struck down the state law banning same-sex marriage. Similar RFRA laws had been introduced in 19 other states in the 2 decades since the federal law, without people getting upset and calling for boycotts. What was different in Indiana?
It was a combination of timing, purpose, and what was in the bill. The law itself was pretty clearly designed to allow discrimination against LGBT people. Opponents of marriage equality (mostly: the religious right) constantly told "horror" stories of photographers, florists, and bakers who were fined for refusing to serve gay couples getting married. The bill's supporters clearly meant to target LGBT people, and it didn't help that the governor almost secretly signed the law, in the presence only of a number of representatives from religious organizations and some known anti-LGBT zealots: Micah Clark, executive director of the American Family Association of Indiana; Curt Smith, president of the Indiana Family Institute; and Eric Miller, executive director of Advance America.
Legal Professor Tobias Barrington Wolff provided a concise description of how the Indiana RFRA was substantially different from others in three ways, in brief: 1. Private parties were harmed. 2. There is no accountability. 3. Corporations are given special rights. Additionally, Lambda Legal pointed out that Indiana's RFRA is different in that "(it) is so broadly written that someone can sue even without their religious beliefs having actually been burdened simply by claiming that is "likely" to happen."
The backlash was enormous, more or less initiated by celebrity LGBT activist George Takei, who launched a #BoycottIndiana Twitter campaign, which immediately became trending. Takei was followed in one way or another by other celebrities, such as Miley Cyrus, Ashton Kutchner, Larry King, Keith Olbermann, Hillary Clinton, Kathy Griffin, and - of course - Martina Navratilova. Author Stephen King tweeted: "Indiana's Religious Freedom Restoration act is gay discrimination, pure and simple. You can frost a dog turd, but it's still a dog turd."
CEO's united
Within days of the governor's signature, the CEO of Apple (Tim Cook, who came out as gay a year earlier) criticized the law, and Salesforce CEO Marc Benioff canceled events planned in Indiana. Jeremy Stoppelman, CEO of Yelp, delivered an open letter to all states that intend to discriminate, stating "… it is unconscionable to imagine that Yelp would create, maintain, or expand a significant business presence in any state that encouraged discrimination by businesses against our employees, or consumers at large." Anthem, Roche Diagnostics, Cummins, Indiana University Health, Eli Lilly, NASCAR, General Electric, and PayPal were among the companies that raised concerns. Leaders from some 39 tech companies and organizations also condemned the legislation. Billionaire investor Warren Buffett joined their voices. "I think if people can exercise discrimination based on sexual orientation, then it's wrong," he told CNN.
Angie's List's CEO Bill Oesterle canceled a $40 million deal that was going to expand their headquarters in the state and add 1,000 jobs over five years and was even thinking about moving out of the state altogether. Marriott CEO Arne Sorenson stated in a video released on MSNBC: "The legislation in Indiana - and there are some bills being considered in other states - is not just pure idiocy from a business perspective - and it is that - the notion that you can tell businesses somehow that they are free to discriminate against people based on who they are is madness."
How others reacted
The cities of San Francisco, Portland, DC, New York, Denver and Seattle banned government sponsored trips to Indiana, as did the states of Connecticut - which was criticized for having an RFRA too - New York and Washington.
And it did not stop there. Gen Con, America's largest gaming convention with more than 56,000 attendees, announced it would have to reconsider holding their annual convention in Indiana. A loss of $50 million annually to the state. AFSCME (American Federation of State, County and Municipal Employees), announced that they were pulling the union's 2015 Women's Conference out of Indianapolis in October. The NCAA described itself as "especially concerned" and was monitoring developments to see if it should cancel future sports events in Indiana. The National Forensic Association announced it was withdrawing its 2016 national competition from Muncie, Indiana. The powerful National Association for Stock Car Auto Racing (NASCAR), organizer of the famous Indianapolis 500 also chipped in, as did Indianapolis Motor Speedway. The NBA, WNBA and Indiana Pacers issued a joint statement: "The game of basketball is grounded in long established principles of inclusion and mutual respect. We will continue to ensure that all fans, players and employees feel welcome at all NBA and WNBA events in Indiana and elsewhere."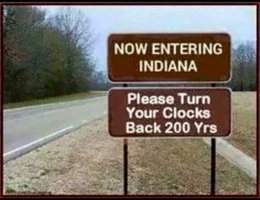 And there were many more outcries against the measure. Of course, memes and jokes also started making their rounds, portraying Indiana as "A great place to be a bigot". In a travel ad paid for by the "Indiana Board of Terrible People," a soothing woman's voice assures us that there's plenty to do in the Hoosier state, "whether you're a family of bigots, a couple of bigots, or just an individual bigot."
The governor's reaction
Governor Pence was shocked by the wave of criticism - but more so because 19 other states had preceded him unharmed, one way or another. On ABC's This Week with George Stephanopoulos he did not answer directly when asked at least six times whether it would be legal for a business to refuse to serve gay customers. After first stating that the law would not be changed, he withdrew a day later saying "I support religious liberty, and I support this law, but we are in discussions with legislative leaders this weekend to see if there's a way to clarify the intent of the law." Followed by: "I don't believe for a minute that it was the intention of the general assembly to create a license to discriminate or right to deny services to gays, lesbians or anyone else in the state, and it certainly wasn't my intent, but I can appreciate that has become the perception," Pence said. And his nose grew.
Even Fox News backed away from the law. Fox anchor Bret Baier observed that the Indiana law was far broader than either the federal Act signed in 1993 or RFRAs in 19 other states - one of Indiana governor Mike Pence's talking points in defending the measure. Basically, while the federal RFRA prohibits government from placing a substantial burden on the free exercise of religion, Indiana's law extends that rule to corporations and individuals as well.
The competition moving in
In the meantime, Chicago Mayor Rahm Emanuel (D) wasn't letting the crisis go to waste. Emanuel, who faced re-election, urged about a dozen Indiana businesses to move to Chicago. Both Illinois and Chicago have anti-discrimination measures in place that include protections for LGBT individuals. While Indianapolis currently has similar protections in place, Pence said that he is uninterested in pursuing similar protections at the state level.
Kathleen Wynne, Premier of Ontario and the continent's most powerful lesbian head of government, said Ontario did 'a fair bit of trade' of trade with Indiana. And while she did not call for a boycott of the state like some companies, she urged businesses upset with the law to move to Canada's most populous province.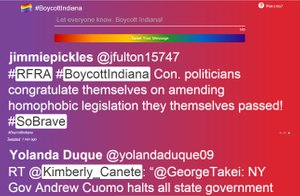 OfficePort, a provider of low-cost collaborative workspace for entrepreneurs in downtown Kansas City, joined the campaign by setting up www.Indiana.lgbt and www.Arkansas.lgbt, and aggregating all #BoycottIndiana and #BoycottArkansas tweets into one colorful, shareable site. "We wanted to come up with a simple way to help get out the message that discrimination in any form, under any name, can't be tolerated," said OfficePort CEO Shaul Jolles. "And if you're an open-minded entrepreneur in Indiana or Arkansas - or just realized that, oops, now you can't go there -we have one more simple message: Come to Kansas City!"
If you were going to be a gay-friendly destination, this wa's a pretty good time to show it. Houston, for example, launched a print and digital extension of its "My Gay Houston" campaign (running nationally in Out magazine and The Advocate), which started five years ago as a website. Officials in Dayton, Ohio, hoped "to capitalize on backlash against Indiana by attracting companies and individuals who are looking to flee the Hoosier state." Cleveland was busy building on its LGBT-friendly reputation in the wake of hosting the 2014 Gay Games. And cities in southwest Michigan, according to a Detroit News item from March 23, were "looking to market themselves as LGBT-friendly." "Atlantic City Beckons LGBT Tourists," read a headline in the Press of Atlantic City on March 30, while preparing to welcome three huge LGBT events to the boardwalk, including the Black Out, a gay African-American event lured away from New York's Fire Island.
Even the National Park Service joined the fray. Its "Find Your Park" campaign, which launched on April 2, stressed both the diversity of the country's 407 national parks and the diversity of its visitors. Though the Parks campaign has been in the planning stages for some time, National Park Service spokesperson April Slayton said that, in the wake of events in Indiana, "the timing is very salient, because so many people are looking at this [issue], interested in where people are and are not welcome."
Second thoughts & sex scandals
Soon after the NCCA pulled their events from NC, Republican lawmaker Tamara Barringer who voted for the state's anti-LGBT law broke ranks to say it was a mistake and should be repealed once and for all. She now insists: "If we want to preserve the proud heritage of North Carolina, it is time for our leadership to consider a substantial and immediate repeal of HB2. I did not realise the consequences of this bill, that it would have worldwide consequences, and they just keep piling up. So, at this point, I'm willing to stand up and say, 'Let's put the brakes on it."
She cited the "unintended consequences" of the bill in losing business ventures and events in the state, so for her it was a pure business decision. I say: too little, too late, you have to bear the consequences. The law will change, but it should reflect on the politicians who made it happen in the first place.
Pence took a huge hit in public ratings, but he dragged the state's reputation with him.
To illustrate the duplicity of the discriminating lawmakers, "in the name of good morals": Indiana House Majority Leader Jud McMillin, a cosponsor of the law resigned his seat just a few months later, after a sexually explicit video starring the representative with someone other than his wife was sent via text message from his cell phone. It was the second time McMillin resigned from a job over sexual misconduct allegations, and he also faced petty theft allegations and vehicular homicide charges. His campaign website listed marriage discrimination as his top issue. "I will protect the integrity of the institution of marriage," the site read. "In southeastern Indiana the family has always been the foundation of our strength of community. Our relationships with our wives, husbands, parents, children, siblings and other loved ones provides the glue that binds our common purpose. In these times of turmoil the rest of the country could learn something from our example." So much for family values and good morals - or good examples.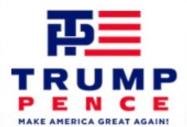 Note: when Donald Trump invited Pence to be his running mate in July 2016 - thereby creating the most anti-LGBT policy platform ever, they made a few mistakes, relevant to this subject. First of all, a logo was chosen for their campaign, that depicted a T penetrating a P. When pundits pointed out that this looked "slightly erotic", they quickly redesigned the logo and subsequently were "going to extreme lengths to try and scrub all reference to the logo from the internet - of course to no avail, as the world wide web shows no mercy. Secondly, during the Republican Convention, shortly afterwards, they played Queen's "We Are The Champions", written and performed by Freddie Mercury, a gay man who died of AIDS in 1991, and who would have been a clear and direct victim of the legislation Pence had been trying to push so severely. The surviving members of Queen said the song had been used without their authorization and were "taking advice on what steps we can take to ensure this use does not continue."
The damage has been done
The controversy over the RFRA generated 3,000 news media reports within 2 weeks, most of them with a negative connotation. One convention was lost: the AFSCME public employees union canceled its 900-person convention in Indianapolis next fall. Another group, the Disciples of Christ church, announced it would cancel its 2017 convention in the city. The organizers of eight other conventions "expressed concern" about holding their events in Indianapolis. Visit Indy received about 800 emails from people saying they will cancel their visits this spring and summer because of their disagreement with the law (every complaint received normally stands for 10 dissatisfied customers, 9 of whom do not bother to complain).
The RFRA controversy was serious enough for the credit rating company Moody's to call it a "negative credit development" for the finances of Indiana and Indianapolis. The city faces "increased risk to its hospitality-related revenues" due to a possible downturn in tourism and convention business, Moody's said in its weekly credit outlook report.
After this controversy of a national scale, with reactions from all kinds of parties, from Visit Indy to Eli Lilly to hotels such as the JW Marriott, the game plan became to reassure, rebrand and return to the old state of affairs when Indiana was know for the Hoosier Hospitality. The 62 staffers of Visit Indy were going to put on a "full-court press" to win back conventions, meetings and tourists who have doubts about coming to Indiana. At stake is a thriving tourism and convention industry that brings 26 million visitors a year to Indianapolis and supports 75,000 full-time jobs. Tourists and conventions have an estimated $4.4 billion yearly economic impact on the city.
The aftermath
Interestingly, some of the protests came from companies who did not specifically object to the (possible) discrimination of LGBT, but to the negative impact on business the law may have, or the fact that the company may not be able to attract or retain (good) employees, thereby negating the human rights and equality issue.
A week after the law was signed, all of the above turmoil (and some more) led the Indiana lawmakers to 'fix' the controversial RFRA. The language added to the bill said unambiguously that the RFRA may not be used as a legal defense for companies to decline services, goods, public accommodation, employment or housing on the basis of gender identity or sexual orientation. Explaining the amendment, statehouse Speaker Brian Bosma, a Republican, said, "What was intended as a message of inclusion was interpreted as exclusion for the LGBT community. Nothing was further from the truth, but it was clear that the perception had to be addressed." Hear, hear. Pence signed off on the amended language, creating the first protection explicitly extended to LGBT people in Indiana law.
Shortly afterwards, Adweek reported: "After the Indiana debacle, states are showing off their LGBT-friendliness. For many destinations, inclusive marketing is now a top priority". The measure was patched with a hastily written amendment, but when it comes to the state's travel and tourism industry, the damage - at least in a public relations sense - has already been done. In the wake of travel boycotts it became clear that even a perceived anti-gay bias can do plenty of damage. Indiana's tourism agencies pooled $2 million and hired PR giant Porter Novelli, hoping to "remind the world that Hoosiers welcome everyone." Destinations across the country sent the message that LGBT visitors are more than welcome, either by activating new campaigns or simply emphasizing the gay-inclusive marketing already in place.
The drama did not go unnoticed in presidential circles either. At the 2015 White House Correspondents' Dinner, President Obama quipped: "I tease Joe sometimes, but he has been at my side for seven years, I love that man. He's not just a great vice president, he is a great friend. We've gotten so close, in some places in Indiana they won't serve us pizza anymore."
Indiana as gay destination
It wasn't always like this. Indiana decriminalized same-sex sexual activity in 1977, but did not do much about gay marketing since. However, just like in the Asterix comic books, there was this tiny "village" that was different. In 1997 (!), Bloomington established domestic partnerships for unmarried city employees. In the following years, they promoted themselves as a gay-friendly destination - which not many LGBT would ever have thought of, considering that Bloomington never featured on any 'lists' or rankings in that respect. They presented themselves as "the gay capital of the Midwest" and quoted the 2010 Census to claim being the nation's fifth largest per capita population of same-sex households. It would become something of a self-fulfilling prophecy.
In October 2008 Advocate.com and OutTraveler.com named Bloomington the "#1 surprisingly gay small town destination", while The Advocate followed up in its February 2010 issue, naming Bloomington the "#4 gayest city in America" (OK, the fact that this was right behind Atlanta (#1), Burlington, VT (#2), and Iowa City, IA (#3), neither of which are famous for their gay-friendliness, makes you wonder how valid this list is): "This forward thinking college town is a magnet city for gays in the Grain Belt. It's also home to Indiana University, where Miss Gay IU - said to be the first student-sponsored drag competition held on any campus - is in its 20th year. The Kinsey Institute for Research in Sex, Gender, and Reproduction is also here, inspiring the entire town to be heteroflexible." According to Out Traveler Magazine "almost everything and everybody in this town says 'Welcome!'". In 2012 Huffington Post listed Bloomington as one of "10 LGBT Vacation Destinations: Small Cities and Towns".
Gaycities lists a very limited number of the bars & clubs (3, of which one was "closed"), restaurants (9 - so probably those who advertise as gay-friendly), and hotels (4). You can find an annual Pride event and an LGBT Film Festival on the calendar as well.
Bloomington was not completely alone: Carmel established domestic partnerships for unmarried city employees in 2012, and in the same year the Indianapolis City-County Council voted in favor of establishing domestic partnerships for all married and unmarried employees of the city and county. However, they have not engaged in marketing themselves as gay-friendly destinations for tourists.